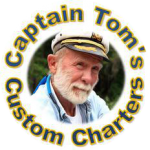 Captain Tom needs our help.  He was diagnosed with an aggressive brain tumor and will need to undergo chemo and radiation treatments. The treatments are very expensive and we don't want Captain Tom to have to face this alone! His sister Janet has set up a GoFundMe account. Click below to read his story and donate.  EVERY dollar helps!!
Click Here To GoFundMe Page
CAPTAIN TOM'S CUSTOM CHARTERS
We specialize in Eco Tours on the Silver River where you may have the opportunity to see alligators, turtles, wild monkeys, snakes, otters, deer, manatee, a variety of birds and native plants. Our most popular tour is the Silver Springs Cruise and River Tour. This tour is about 3 – 3.5 hours long and will take you all the way up to the main headsprings at Silver Springs State park. Here you will get to see several of the main springs that feed into the Silver River as well as the main (Mammoth) spring, which puts out about 600 million gallons of water per day. We also offer The Silver River Cruise tour which is relaxing tour that takes you about halfway up the Silver River. This trip takes about 2 hours. You will have the opportunity to view an abundance of wildlife on both tours!

We offer a variety of custom charters to fit your interests.
Custom Charters: Choose from any of our regular locations for sightseeing, nature study, photography ,or pleasure on the Silver River or the Ocklawaha River for more of the same; or go fishing for the big one!!